Michigan School Meals Program @ New Buffalo Area Schools 2023-2024

As New Buffalo and River Valley School districts continue to combat declining enrollment along with fielding sports teams, the Board of Education of both school districts voted unanimously on Monday, September 25th to combine all high school sports teams over the next four years. Serious conversations around this topic started over the spring of 2023. There were Town Hall meetings in which community members could voice their opinions about merging. The Cooperative Program Oversight Committee (CPOC) was formed, consisting of both athletic directors, staff members and coaches. The committee was responsible for answering MHSAA questions of the cooperative agreement in review. The answers were submitted to the executive team which was composed of the Board of Education members from both districts, both superintendents, both athletic directors, and teacher/coaches from both districts. The CPOC held discussions around but not limited to transportation, practice schedules, game schedules, uniforms, financials, lead schools, concession stands, coaches, how to evaluate coaches, a common handbook, a common eligibility standards, supervision of sports, insurance, athletic trainers, and athletic directors roles and responsibilities. An outcome of the CPOC committee work suggested the following high school sports co-oping over the next four years. 2023-2024 Softball 2024-2025 Girls Basketball Golf 2025-2026 Volleyball Boys/Girls Track Baseball 2026-2027 Boys Basketball/Cheer Boys/Girls Cross Country Tennis Soccer In the future, with the help of both communities, we will be asking for input on the name of the combined high school sports team along with the mascot. As of right now, the Red Arrow Raiders will be the name of the combined teams. The work has just begun! We are excited and extremely optimistic about what the future holds with the combination of high school sports between New Buffalo and River Valley. Adam Bowen Superintendent New Buffalo Area Schools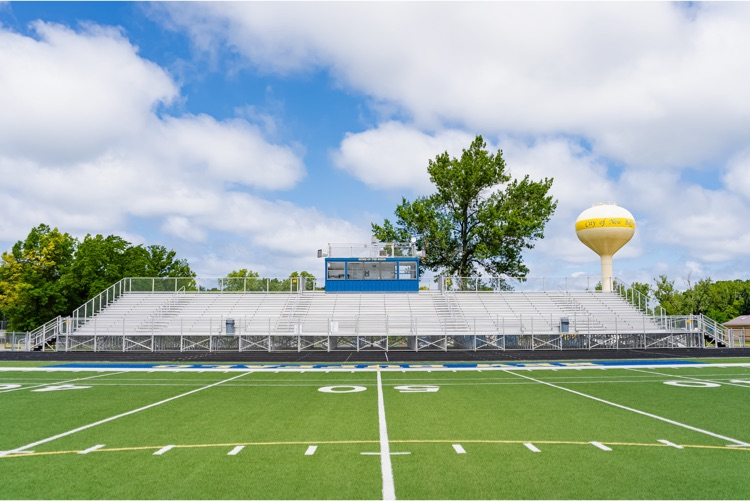 New Buffalo Area Schools Board of Education Meeting Monday, September 25, 2023. Regular Session: 6:00 pm Special Session: 7:15 pm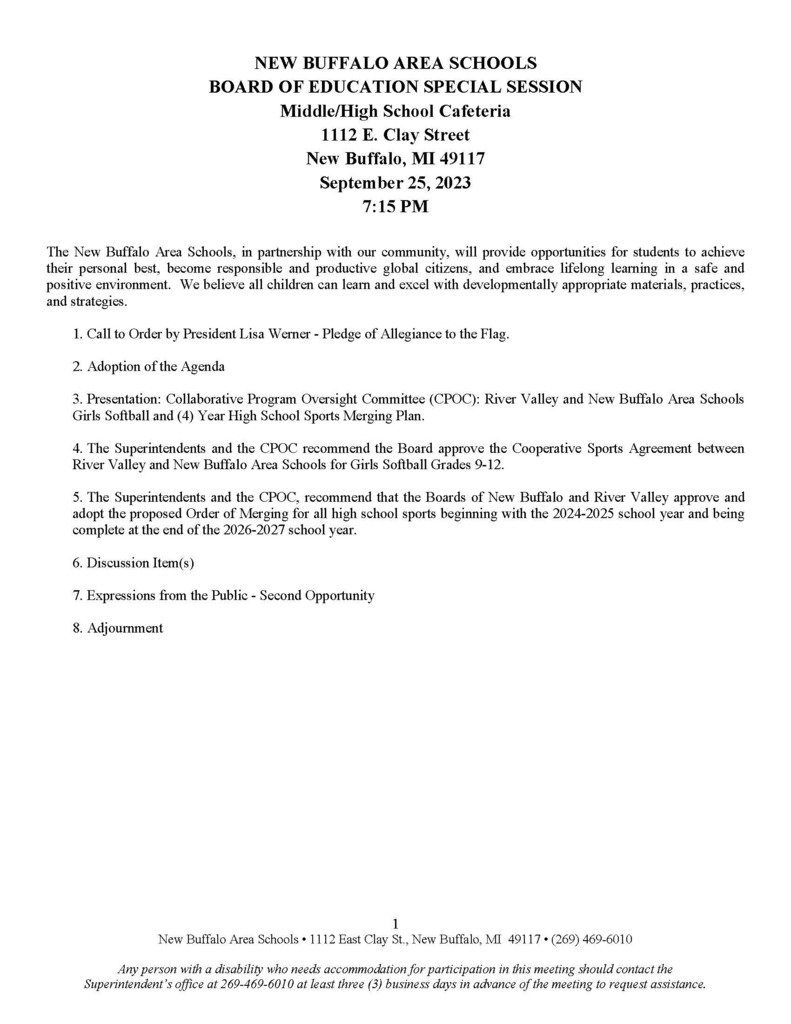 Application for Summer EBT and Education Benefits with the Michigan School Meals Program.
New Buffalo Area Schools Board of Education Agenda for 9/11/2023
Berrien RESA's Playgroups Learning Through Play
New Buffalo Area Schools Board of Education Meeting Agenda for 8/28/2023
Michigan School Meals Program @ New Buffalo Area Schools 2023/2024
New Buffalo Area Schools Day Care Program

We strive to offer the best education possible and meet the needs for each individual learner. Every student. Every day.


Congratulations to Dr. Lindley for another successful tour at NBAS! Mr. Eberly's class designed, engineered, and produced this skateboard using the STEAM equipment. Even the trucks were 3D printed by students! Thank you Dr. Lindley for all of your hard work this past school year.
Thank you to Oinks Ice Cream and Yogurt Shop/Schimanski Family for providing ice cream to our faculty and staff yesterday. For the adorable mugs and key chains for our HS teachers during "Teacher Appreciation" week, and for always being so generous to us at New Buffalo Area Schools. We appreciate your kindness and generosity.
The color fun run 5k was so much fun!! After running a 5k in the woods, they ended the run by running through a finish line of powder paint, then sprayed each other with silly string and more powder paint! Here are some incredible photos and videos! I hope they all had a fantastic time! With thanks to Ms. Churchill, Mr. Nate Jones, Mr. McGinn, 10 high schoolers, Mr. Rob Hauch for making his own version of a powder paint shooter, my own BASE staff and the parents and families that ran with the students!
81 parents joined us at the Elementary this morning for Muffin Day!
Congratulations Matt Fidler! New Buffalo Area Schools "CTE Student of the Year"! Matt is a senior at New Buffalo High School who has shown a passion and incredible knowledge for Building Trades. Matt is currently in his second year of the Building Trades program and sets ambitious goals for himself. He takes initiative, is hard-working, and his skills have allowed him to mentor others in the program. Matt is pictured with Building Trades instructor, Robert Hughes.